When:
August 15, 2018 @ 4:00 pm – 7:00 pm
2018-08-15T16:00:00-04:00
2018-08-15T19:00:00-04:00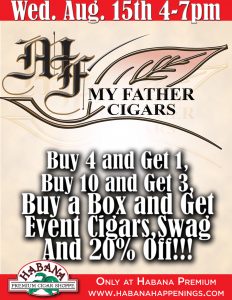 Join The Habana Crew and My Father Cigar Company Representative Steve Royston for a sale event on one of the hottest brand in the country! He spent thirty years in Cuba developing his skills as a torcedor (cigar roller) and blender, earned numerous accolades for his blending abilities and achieved the highest ranking possible as a cigar roller, Class 8 (Master). Among the awards he won was the Productivity Prize for rolling 320 Julietas four hours. The Cuban press often compared the speed and dexterity of his rolling to that of a magician. He is also a Tabaquero Maestro (Master Blender), and was also a "teacher of teachers" in the arts of blending and rolling cigars.
Deals include –
4 and 1
10 and 3
Box – Event Pack and 20% off!