Habana Happenings
Cigars, Pipes and Tobacco
Upstate New York's #1 tobacconist for 25 years running. Voted best place to leave your husband 15 years running. Our stores offer an incredible selection and comfortable lounges.
Contact us
Upcoming events
Oct 25 @ 4:00 pm – Oct 26 @ 7:00 pm
4:00 pm
Join Habana crew for a sale on one of this area's hottest cigars!  Alec Bradley!  Veteran cigar representative John Troiano will be the house with great deals on all the AB cigars!  Deals include –[...]
Nov 1 @ 12:00 pm – 7:00 pm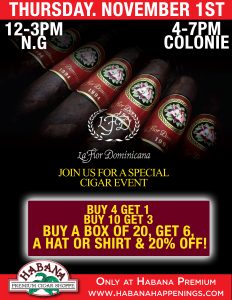 12:00 pm
Join the Habana Crew for a sale event on La Flor Dominicana! All of you favorite's will be available and maybe even some rarities!  Deal's include Buy 4 Get 1, Buy 10 and Get 3, Buy[...]
Two Locations With Outstanding Smoking Lounges
Habana Premium Cigar Shoppe was founded in 1996 with humble beginnings by Scott Bendett. Over the years, Scott grew his business from a tiny mall kiosk to brick and mortar stores in Colonie and East Greenbush, New York. Scotty and Habana Premium have been featured in Pipes & Tobacco Magazine, Tobacconist Magazine, Bride's Magazine, New York Sun, Times Union, Capital Region Business Review and more. His dedication to providing a huge range of quality products with incredibly knowledgeable staff has proven to be a winning combination, having consistently been voted #1 Cigar Shop in both the Times Union and Metroland annual reader polls.
For over 17 years, Habana Premium Cigar Shoppe has provided the Capital District community with professional cigar rolling for weddings, festivals, concerts and other special occasions